Whats new for this Summer? Rated to get 27 mpg in combined driving and provide 526 miles of driving range, while retaining 7-passenger seating and 3,500-pound towing capacity, the new 2014 Nissan Pathfinder Hybrid is just like a standard Nissan Pathfinder, except under its hood.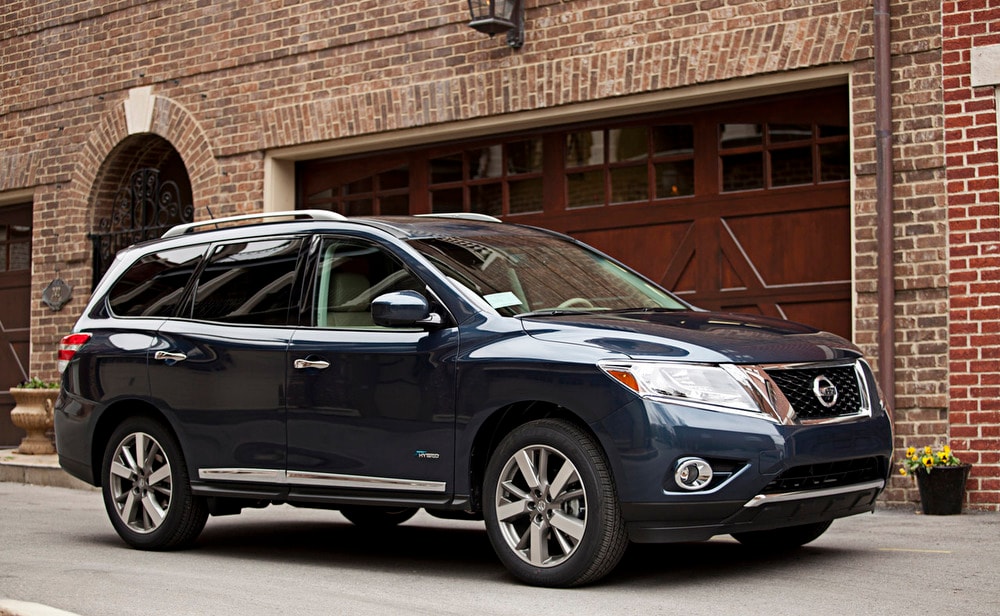 To create the 2014 Pathfinder Hybrid, Nissan eliminated the 3.5-liter V-6 engine and installed a supercharged, 2.5-liter 4-cylinder engine paired with a 15-kW electric motor, compact Lithium-ion battery, regenerative braking system, and a Nissan Intelligent Dual Clutch System that manages the powertrain and serves as a generator to capture kinetic energy from deceleration and recharge the battery.
Combined, the Pathfinder Hybrid's powertrain generates 250 horsepower and 243 lb.-ft. of torque, comparing favorably to the standard V-6 engine's 260 horsepower and 240 lb.-ft. of torque. Pathfinder Hybrid fuel-economy estimates, according to Nissan, are 25 mpg in the city, 27 mpg on the highway, and 26 mpg in combined driving. City drivers are likely to derive the greatest benefit from Pathfinder Hybrid ownership; the standard V-6 is EPA-rated to get 20 mpg city/26 mpg highway for a combined rating of 22 mpg.
The 2014 Nissan Pathfinder Hybrid looks like other Pathfinder models, except for its standard LED taillights and PureDrive Hybrid badges. Inside, the Pathfinder Hybrid has unique information screens for the Advanced Drive-Assist Display. The Lithium-ion battery is installed underneath the third-row seat to ensure that this 3-row crossover SUV retains all of the passenger- and cargo-carrying flexibility of the standard Pathfinder.